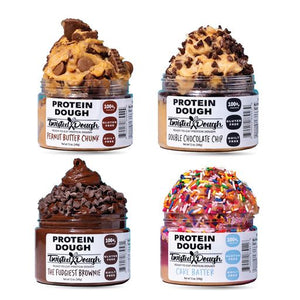 TWISTED DOUGH - CUSTOMER FAVORITE
We help create a tasty treat that satisfies your sweet tooth while hitting whatever goals you have in mind, working around the clock to innovate your favorite snacks. Our small business is here to support and connect on all levels providing multiple goody pop-ups throughout the year including doughnuts, dough cream, whipped dough, holiday treats and so much more.
Double Chocolate Chip
Serving up double the chocolate chips in this original Twisted Dessert Dough.
Peanut Butter Chunk
Serving up an extra creamy peanut butter base with Reese's throughout in this original Twisted Dessert Dough.
The Fudgiest Brownie
It's soft & creamy but not your typical dough gritty/sugar-filled texture. A rich chocolate taste jackhammered with fudge with every bite, remember there is no flour in this dough as its base is made from protein!
Cake Batter
Serving up cake batter and sprinkles in this original Twisted Dessert Dough Frosting.
These flavors are meant to be eaten raw, right out of the jar. Our products are free of artificial colors, soy-free, and gluten-free. So, knock down those sweet tooth cravings with zero junk in your favorite treats. Now you and your family can enjoy melty and gooey dough guilt-free.
Features and Benefits
Safe to eat raw

No Baking Required

Natural Ingredients

Soy & Gluten Free
Why buy this product?
Our products have been tested for accuracy by NPAL Laboratories. Every flavor has an amazing taste. Don't hesitate, to try out the new delicious protein dough. Just pick your flavor and have it shipped directly to your door.
So, click on the ""Add to Cart"" button to purchase our ""TWISTED DOUGH - CUSTOMER FAVORITES""